UberCloud is a front-runner in facilitating engineers to run their Ansys LS-DYNA simulations with peak performance and reliability. Our primary focus is to assist enterprises in migrating complex engineering workloads like Ansys LS-DYNA to High Performance Computing (HPC) cloud resources, and fully tap the massive computing resources in the cloud, the potential return on investment (ROI), and the engineering productivity. Our automated cloud platform specifically designed for engineering simulations like Ansys LS-DYNA not only brings business agility and lowers the total cost of ownership (TCO), but it also allows engineers and IT experts complete and exclusive control over hardware, software, and data.
Performance with Ansys LS-DYNA
Crucial to the success of our customers running LS-DYNA simulations is the on-demand capability to run simulations with high performance and at scale, on the cloud infrastructures. Many factors are key to overall simulation runtime, such as CPU performance, core number, memory caches speed and sizes, memory access times, and throughput, and disk and network performance. The immediate availability of powerful cloud resources and the achieved application performance has a direct impact on the productivity of engineers using Ansys LS-DYNA. This increased efficiency allows engineers to carry out more complex simulations, improving the quality of their results, and expediting the market deployment. Using cloud resources only when needed reduces infrastructure costs but also reduces administrative overhead of the infrastructure.

Using Ansys LS-DYNA in Engineering Simulation Workloads
Ansys LS-DYNA, a commercial general-purpose multi-physics simulation software, is extensively used across industries like automotive, aerospace, construction, and manufacturing. UberCloud sought to measure and compare the performance provided by Google Cloud Platform (GCP) HPC instances using Ansys LS-DYNA simulations in a dynamically allocated backend based on Google Kubernetes Engine (GKE). Our platform helped in creating a compute cluster, running the simulation, and decommissioning the cluster after the simulation with just a fingertip.

GCP's compute optimized Virtual Machine family includes compute instances called C2D, based on 3rd generation AMD EPYCTM processors. Well-suited for HPC workloads, particularly Ansys LS-DYNA simulations, C2D instances are optimized with persistent disks, advanced networking, compact placement policies, spot allocation, and GKE support.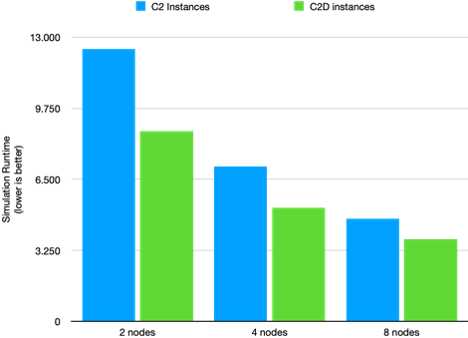 Performance evaluation in our blog post showed considerable runtime improvement of an Ansys LS-DYNA simulation on the new C2D instances. Our tests ran Ansys LS-DYNA simulations on up to 8 C2D nodes, each equipped with 112 vCPUs. We also compared the performance of N2D instances (based on AMD 2nd Gen EPYC processors) against the new C2D instances and found noticeable improvements by switching to C2D instances even though N2D instances provide more cores in total.
Conclusion
UberCloud's Engineering Simulation Platform significantly enhances the performance, reliability, and scalability of Ansys LS-DYNA simulations by leveraging advanced high-performance computing cloud resources. This facilitates more complex simulations, improves productivity, expedites market deployment, and reduces costs. With the ability to quickly create compute clusters in any cloud and manage simulations, the platform offers high efficiency, improved engineering productivity, higher-quality simulation results, and user-friendliness. The substantial improvements achieved in runtime performances reaffirm the pivotal role of choosing the right compute instances to achieve the best simulation results.