UberCloud's
Cloud Simulation Platform
provides product design engineers 10x productivity. The way we achieve this is by bringing leading engineering tools like CST Studio Suite to the Cloud.
Since each engineering tool has its own characteristics, today we want to look at three specific ways UberCloud
HPC Cloud Simul

ation Service

speeds up CST Simulations.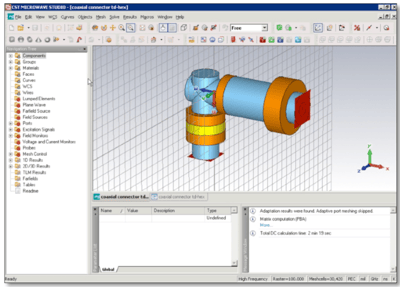 CST Microwave Studio
Supply Electromagnetic Simulations the Compute Power They Require
When optimizing a device, for example a smart phone, with multiple antennas, their interactions need to be taken into account, which requires dense compute power.
UberCloud
cloud simulation platform for engineers
speeds up CST Studio Suite by providing access to powerful, modern CPU's in the Cloud. While workstations are refreshed on average every 3-4 years, with UberCloud engineers gain access to the most recent CPU technology.
Support CST Distributed Computing
CST Studio Suite includes a powerful parallel processing platform called CST Distributed Computing (CST DC). With CST DC computations are distributed to a group of servers to harness their collective capacity.
This comes handy when there are dozens of parameters the design team needs to optimize for. Some of these parameters are size of the antennas, their placement, and their material properties, among others. In addition, each parameter combination must be simulated not once, but for each frequency within the range the device needs to operate in. To identify the optimum design within these parameters, engineers run tens of thousands simulations.
UberCloud's
cloud based CAE solution
brings up compute resources exactly when needed, automatically presents in CST DC to include them in the computations and releases them back when the computations are completed to control cloud costs.
Provide Access to Modern GPUs for Acceleration
CST Studio Suite is continuously improved to take advantage of acceleration technologies such as GPU's. This technology is moving so fast that it may be difficult and expensive for product design engineers to keep their hardware up-to-date.
UberCloud provides CST Studio users with access to modern GPU's, on-demand. A typical UberCloud server contains multiple Nvidia V100 GPU's to shorten the computation times of most complex simulations. With such acceleration, design teams can perform more simulations in a given amount of time, leading to better designs.