Introduction
FLSmidth, a leading provider of equipment and services to the global cement and minerals industries, needed to modernize their simulation platform to improve performance and scalability. They turned to UberCloud, a cloud services provider that specializes in high-performance computing (HPC) in the cloud, to help migrate customers' simulation workloads to Microsoft Azure.
FLSmidth at a glance
FLSmidth, a Danish company established in 1882, has a global presence, serving the mining and cement industries in over 150 countries. As a full flowsheet technology and service supplier, FLSmidth is dedicated to helping its customers enhance performance, lower operating costs, and minimize their environmental impact.
With a 2021 revenue of DKK 17,581 million and an EBITA of DKK 1,030 million, FLSmidth demonstrates a strong market presence. Employing over 10,100 individuals and operating in more than 60 countries as of the end of 2021, the company's influence is widespread.
FLSmidth's Cloud Journey
FLSmidth embarked on their cloud journey in 2019, starting with a proof of concept (PoC) that involved testing with a select group of users from Australia, Brazil, Denmark, and India. This helped them make a crucial decision in 2020, regarding their infrastructure path, ultimately choosing a hybrid approach with both on-premise and cloud solutions.
By the end of 2020, the company had successfully set up cloud services in Denmark and India. Over the course of 2021, they focused on fine-tuning their services and ensuring stability. FLSmidth then expanded its cloud services to Australia and the USA in 2022.
The vision behind FLSmidth's cloud journey has been to provide user-friendly and just-in-time access to high-performance computing (HPC) resources, regardless of the user's location. Their core values in this journey are flexibility, scalability, and sustainability. By adopting a cloud-first strategy and emphasizing sustainability, FLSmidth has managed to stay true to their principles while embracing the technological advancements that come with cloud computing.
Opportunities in Mining
The mining industry has experienced remarkable advancements, with technology playing a pivotal role in enhancing key stages such as exploration, development, extraction, and production. These improvements have resulted in more efficient data collection, heightened collaboration, optimized operations, and the implementation of innovative strategies. Overall, the mining process has become more effective and eco-friendlier, thanks to these technological breakthroughs.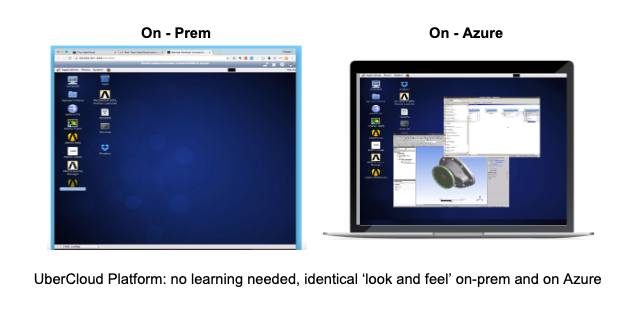 Challenge
FLSmidth faced several challenges in migrating their simulation workloads to Azure, including the need to maintain high performance and usability for their engineering teams, and ensure compliance with their stringent security and privacy requirements.
Solution
UberCloud worked closely with FLSmidth to design a customized solution architecture that met their specific needs. They utilized Azure's HPC capabilities to build a high-performance simulation environment that could handle FLSmidth's complex workloads. Additionally, they implemented robust security measures to protect FLSmidth's sensitive data and intellectual property.
Results
Thanks to UberCloud's expertise and support, FLSmidth's engineering teams experienced a smooth transition to the new cloud platform. The interface for the new Azure-based system was virtually identical to the on-premises system, which minimized disruption and ensured a seamless user experience. Additionally, the new platform was able to handle FLSmidth's simulation workloads with ease, delivering improved performance and scalability. To understand the return of the cloud, the UberCloud/Azure cloud simulation platform helped engineers to increase their productivity by an average factor of 10.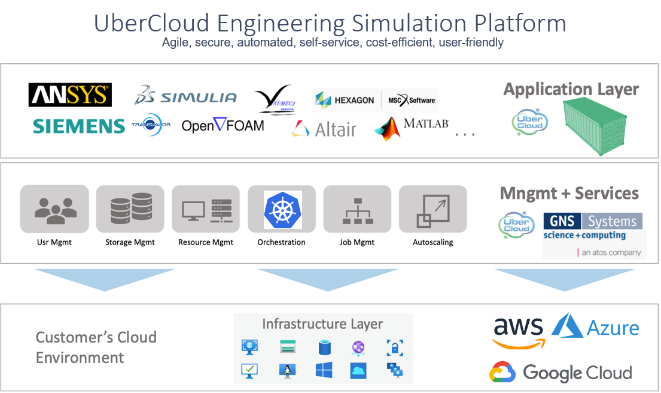 Conclusion and Key Learnings from FLSmidth's Transition to an Azure-Based Cloud Simulation Platform
Working with UberCloud and Microsoft Azure enabled FLSmidth to modernize their simulation platform, improve performance and scalability, increase engineers productivity dramatically, and ensure compliance with their strict security and privacy requirements. The smooth transition to the new platform ensured that FLSmidth's engineering teams could continue their work without disruption, ultimately improving their ability to provide equipment and services to the global cement and minerals industries.
Throughout this journey, several key learnings have emerged. First, closely monitoring usage and costs is vital for maximizing the value of computing resources and licensing assets. Second, effective coordination among IT professionals, super users, and partners is essential for maintaining progress. Moreover, the newfound freedom from resource limitations has led to a significant uptick in simulation usage, enabling specialists to focus on their core tasks rather than IT administration. Lastly, the flexibility provided by the cloud-based platform has proven invaluable in adapting to the constantly changing business environment, including geographical shifts and evolving demands for various physics simulations.
By incorporating these insights, FLSmidth's HPC Cloud story serves as an inspiring example of embracing cloud-based solutions to enhance productivity and respond to an ever-changing landscape.
Contact Us