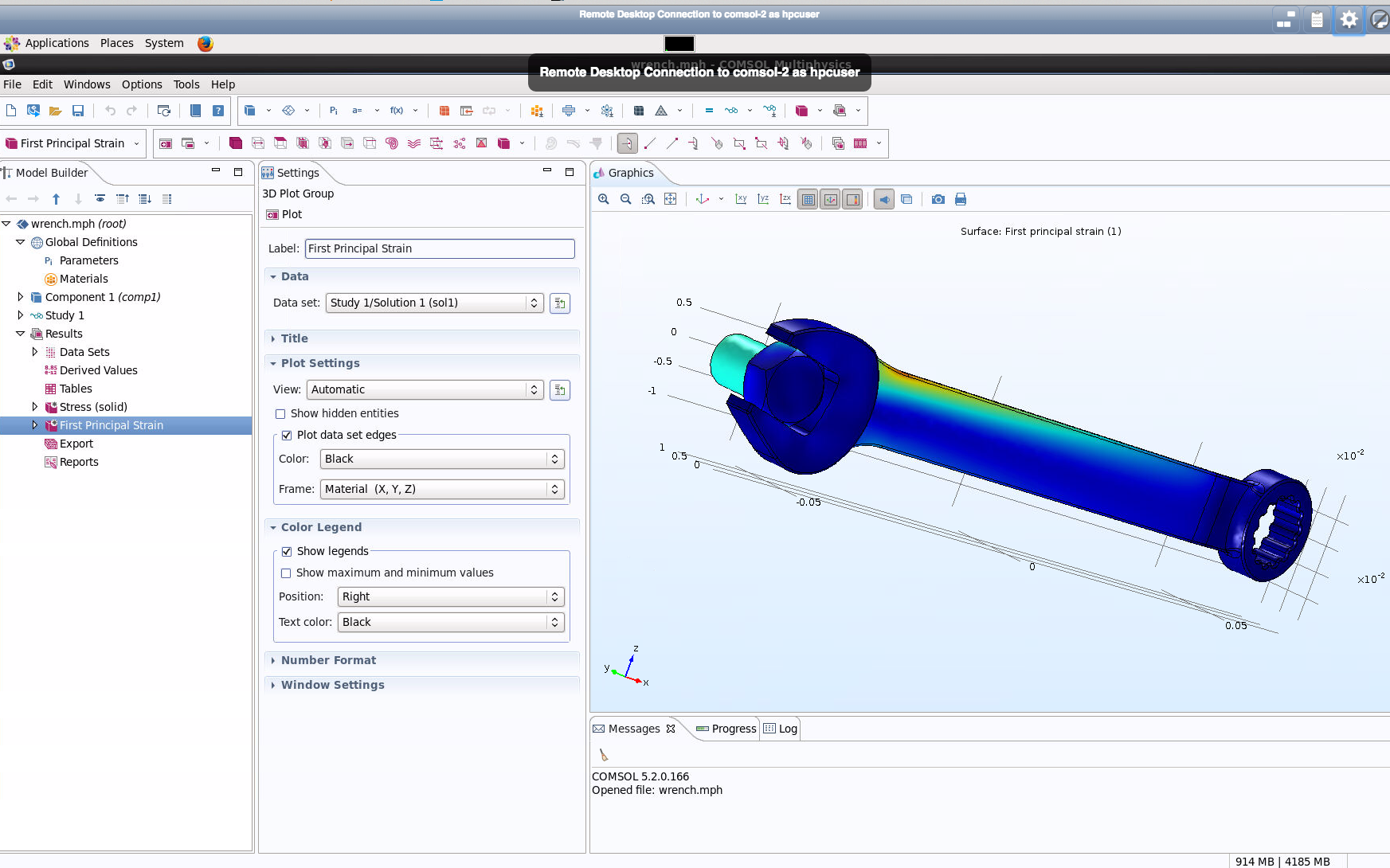 View of COMSOL GUI in the Cloud
The real world is complex, rich, and exhibits a variety of physical phenomena. To design products in the real world, engineers need to contend with physics in the areas of electrical, acoustics, heat, fluids and more. COMSOL is an industry-leading simulation platform that captures the richness of the real world with its multi-physics capabilities.
COMSOL let's you combine multiple physical phenomena to solve problems in engineering and science.
What's an example of multiple-physics? Let's say we pass an electric current through an element. The element heats up, which in turn alters its structural properties. This is an example of coupled physical phenomena. COMSOL lets you select from pre-coupled physics or create your own multi-physics couplings. You can even type in your free form equations into COMSOL.
Since COMSOL works on coupled problems, the memory requirements can be huge and often beyond the reach of your workstation. Very often users have to compromise on fidelity simply because the problem won't fit on their machine. At UberCloud, we have been helping our customers leverage the power of the cloud to tackle these problems. Our container-based approach enables users to continue using the full COMSOL GUI to submit jobs that can be farmed out to compute clusters either on-premise or in the cloud. In addition to running big problems on large-memory servers, parametric sweeps can be parallelized with ease to speed up your workflows.
And best of all, because you are using the native COMSOL GUI, you have total control over your work. Let's say you run a large parameter sweep with 100 parameters from the COMSOL GUI. After the solution completes, you look at the results and notice that one of those parameters has failed. The COMSOL GUI gives you a simple workflow to re-run just that one parameter and combine it with your existing results. You could never do this in a batch solution.
Another example of control is how you want to process solutions as they are being generated. You can ask COMSOL to synchronize all your solutions back to one single model as it solves them. Alternatively, you can tell COMSOL to keep each of the parameters in a separate file to be processed individually. You can also setup probes in your model to measure interesting values. Collecting these probe values requires much less memory and time compared to the full solution information.
Using the native COMSOL GUI gives you remarkable control over your analysis in the cloud
In addition to the product innovations, COMSOL offers the industry's most cloud-friendly license model. A Floating Network License from COMSOL will let you run your analysis on any number of cores, anywhere.

Get in touch with UberCloud to see how you can take advantage of the powerful features of COMSOL by running on cloud hardware.